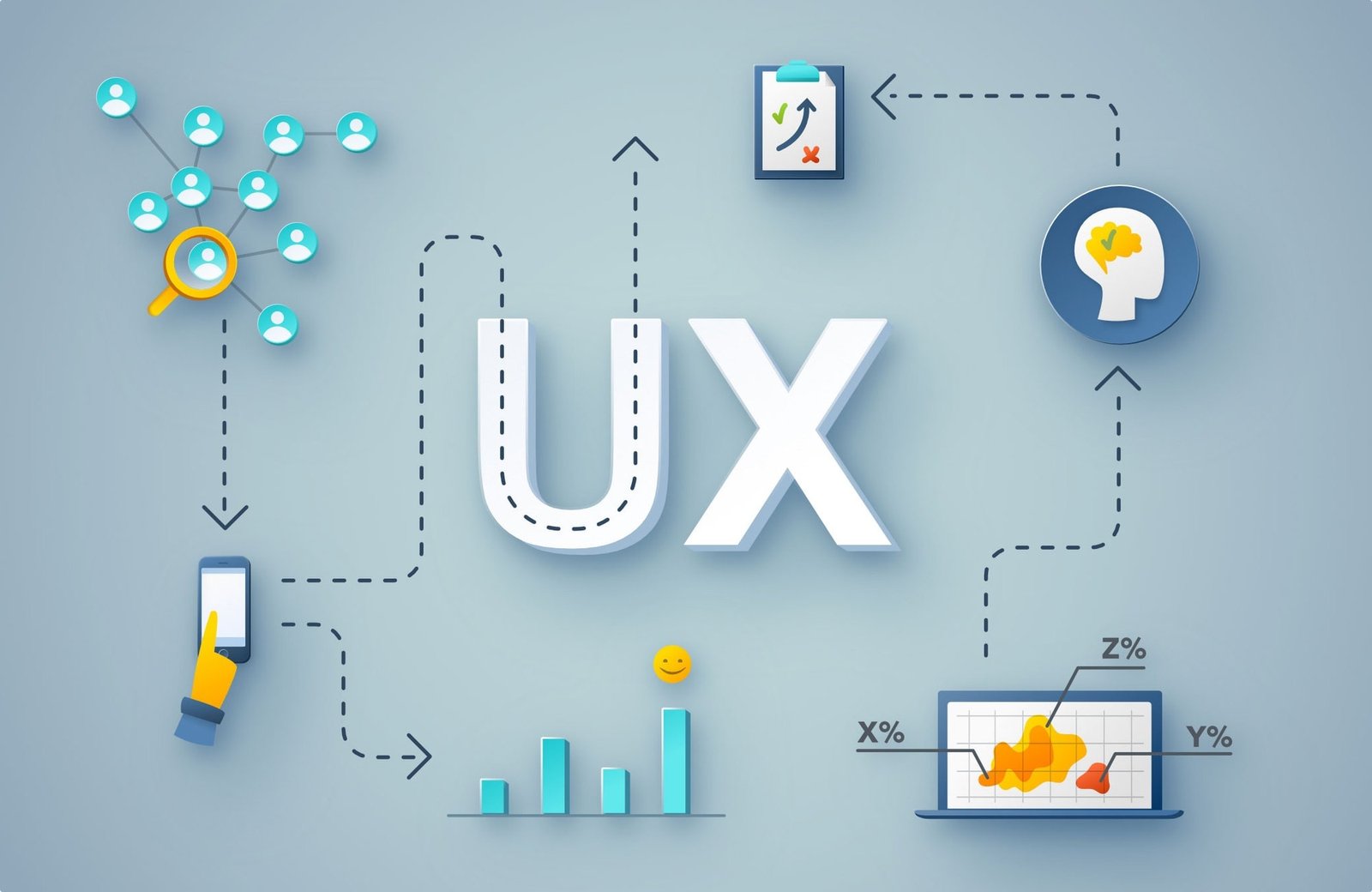 If you're reading this, you're definitely well aware of how important user experience is. You are aware that the professional UX design method saves more than half of the developers' time spent on pre-production issue resolution and that a good UX design can result in a 4x – or, as one of Kreationsite's projects demonstrates, a 6x – boost in conversions.
I'll go over how to develop the right user experience strategy to ensure you have the right UX approach and quality UX design.
What is a User Experience strategy?
User experience strategy, like any other strategy, is about understanding your current position, future goals, and the stages in between. So it makes sense to define the term generally as a plan that assists you in moving from the UX you have to the UX you want to have in the most efficient manner.
Key Performance Indicators (or KPIs) are an essential component of a UX strategy since they address your goals in greater detail. For example, they provide a specific number for the income increase you desire or name the acceptable bounce rate.
Aside from KPIs, any UX strategy relies on and necessitates the collection of the following data:
Target users' needs and expectations.

Stakeholders' conditions and interests.

Technical qualities that are objective.
An effective UX strategy also includes a specific set of priorities that are unique to each organization. Kreationsites constantly advises clients to prioritize accomplishing UX goals that have the greatest impact on their business and, as a result, be willing to make sacrifices, such as delaying some features or limiting the target audience.
How to Create a User Experience Strategy


A UX strategy can include more specifics about what steps to follow and what to focus on, depending on the client's digital project. As a result, I'll discuss developing a UX strategy for the two major categories of projects individually.
A software application's user experience strategy
Years of working with clients who desire a software application to be their primary point of contact with their consumers enabled Kreationsites to identify a pattern in the challenges these organizations face. Business owners naturally want to get the most out of this software platform, whether it is still in the work or has already been developed. They strive to reach the widest potential audience and cover as many user functions as feasible.
Making any sacrifices becomes difficult with such a mindset. The effects vary, but they are all boring. Some clients had a roadmap that exceeds the stakeholders' time and budgetary plans by 150-200 per cent before coming to Kreationsites for UX consultation. Others were just overwhelmed by the requirements and expectations of all of their target customers, resulting in decision panic.
The Kreationsites method:
Although it is fair to want to target a larger user base, Kreationsites often advises customers how fulfilling the needs of too many users can lead to feature creep, which can ruin the user experience and result in the loss rather than gaining users. As a warning, here's one of the client stories.
Before joining Kreationsites, a client completed 5 planned changes to their document management solution over a 6-month period. All updates gradually added new features that had asked by a number of users who belonged to what the client thought could be a new profitable audience. However, since implementing the new capabilities, the client has seen a significant decline in its existing user base.
Our audit revealed that over 75% of the truly profitable potential audience was already utilizing two types of powerful document management tools tailored precisely to their requirements.
In short, the tech-enabled of the client's product was insufficient to attract a new target audience and turned off a big portion of the existing user base due to navigational difficulties that slowed work processes.
A well-planned and timely implemented UX strategy could have assisted this customer in realizing:
Despite a few customer demands, a major portion of the new target demographic was satisfied with another powerful product.

The newly offered basic features would not be sufficient to win over the new target population.

The newly introduced functionality may be enough of a restriction that a reasonable fraction of the core user base migrates to a less overpowering solution with better UX.
To avoid such problems, it is essential to hire a UX design Services that focuses on a client's individual business goals and establishes key user audiences that will allow them to be met. The effectiveness of such a UX strategy is also based on the creation of extremely comprehensive avatars that aid in understanding how a software product is or will be regarded in the market. Only in this manner can instances where a software program leaves a target audience unsatisfied be handled.
A customer journey UX strategy
Companies with multichannel customer communication are another sort of Kreationsites client who requests UX consulting. A variety of interfaces, such as a website, mobile app, and presence on markets places (Amazon, eBay), as well as social networks (Facebook, Instagram), provide such businesses with widespread exposure. However, despite successfully engaging various audiences, their user happiness and conversion rates are lower than expected.
Our audit experience with such companies has revealed that the reason for their business underperformance is a lack of cohesive UX. Despite reaching out to customers in a variety of methods, these companies have yet to integrate all of their connections into a single customer journey that results in customer loyalty and high ROI.
Who should be involved in the design of the UX strategy?
As you can see, an effective UX strategy is always based on data from thorough business research and planning. As a result, the team working on UX strategy design should include one of the following combinations:
A business analyst with professional experience in UX design.

A UX professional with a background in business analysis.

A business analyst and a user experience expert contribute equally.
When creating UX for a customer journey, it's also a good idea to have professionals in charge of multiple touchpoints on the team. They can provide valuable insight on touchpoint specifics and contribute to an ecosystem's vision.
It's never too late to make your project more profitable
Creating a UX strategy for a planned software application or customer journey is just as beneficial as applying it to current ones: it's never too late to pause and consider why your digital project isn't performing as well as you believe it should on the market.