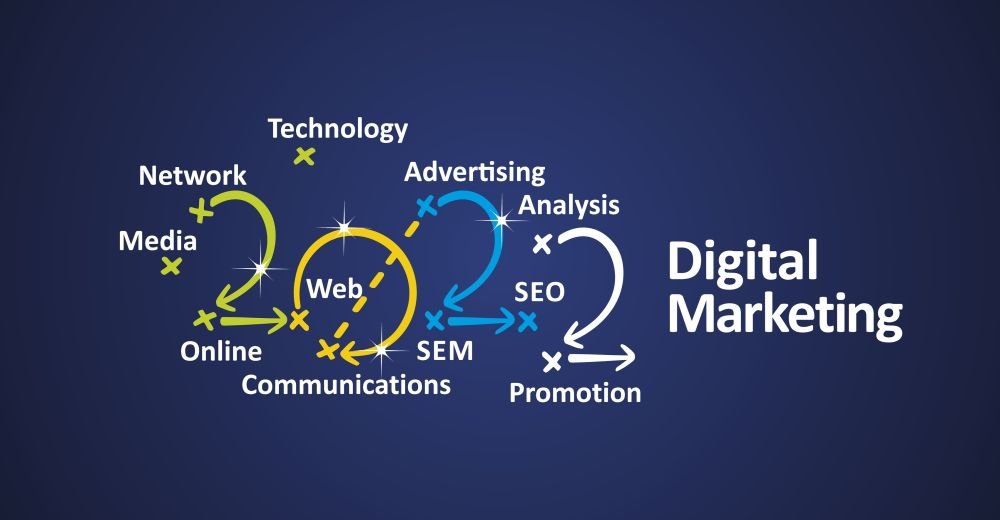 The COVID-19 pandemic's impact continues to alter how customers shop and businesses run. Most services and goods are now available on internet marketplaces, and many firms have switched entirely to remote or hybrid working. We now have insights into the advertising advancements that may be running on this new standard and what you could anticipate in 2022 thanks to over two years of various customer responses to COVID-19.
What are the key features of digital marketing that your business wants to see in 2022? Don't forget to engage with modern clients, keep them as customers, and produce traffic, leads, and money. We have identified a few areas where savvy managers will need to devote time and resources next year.
To increase social media presence
In 2022, businesses will need to invest more money in social media marketing. As more people are linked digitally, 400 million new users joined social media during the COVID-19 epidemic. People spend more time online, which affects how they research brands, companies, and organizations.
The growing influence of social media on purchase intent was highlighted by Kreationsites in an overview of the most recent social media trends. 30% of Gen Z members can clearly recall the favored brands of the influencers they follow while making purchases. The research from Kreationsites also demonstrates the continued fragmentation of social media. Due to the huge variety of users who have switched to TikTok, Snapchat, and Twitter, Facebook is no longer the preferred platform for social spending.
These customers provide new opportunities for business owners to expand their reach to new audiences and re-engage with loyal customers.
If you work with a skilled social media marketer, they can assist you in developing content that will increase your online presence and attract new followers.
Local SEO and Google Business Listings
The most important thing you can do as a small business owner is to make sure your local listings on various search engines are verified and kept up to date. That's because the Google My Business list provides invaluable information about your hours, services, and location for B2C businesses that commonly attract local clients (like a doctor's office or car dealership). One of the major components of search, business owners are usually astounded to learn how many directories are available.
One recommendation for today is to make sure your local listings include a geographical service region as this may help your company appear in "Near me" searches. This is because many search engines place a high value on the relevancy of their algorithms. Restricting your business service radius may also seem counterintuitive, but by doing so, you'll more thoroughly infiltrate that market in search results. Keeping your listings current also enables your customers to be aware of any changes to your hours, deals, blogs, or other information you want to provide.
Auction Robots for Google Ads
Speaking of automated, Google Ads business owners constantly adjust campaigns, keywords, and bids to get the most out of their advertising and marketing budget. The difficulty is that every adjustment costs money through increased work hours and higher control fees. Enter automatic bidding, which enables Google to change your bid in real-time based on automated past actions. Automatic bidding was first used in 2016; hence, it is not a new concept. However, continuous gains, particularly over the last year, indicate that it is due to departure in 2022.
The Voice Search Advantage
Although voice search is now no longer a part of Google's algorithm, its mileage still influences search results today. Voice search inquiries frequently produce more unique results than text-based search queries would. For SEO, it's a great idea for businesses to have voice search additions ready to go for clients or customers who are adjusting and switching to that medium.
Additional Interactive Content
Including interactive content on your website or social media pages is a fantastic way to reward visitors, encourage them to engage with your company, and learn more about them. Consider that you are a realtor and that you have included a simple yet effective loan calculator on your website. By using the information that your visitors provide in the calculator, you are now teaching your visitors something valuable while also learning more about them. You may then improve your profiles and offer to target using the information.
Conclusion
Although there isn't a full list of these trends, you can start using them in 2022 if you're preparing a marketing strategy. By allocating more resources to local search and social media, enhancing the involvement of their customer-facing personnel, and offering more tailored and engaging content.
These trends help you increase the internet traffic to your website, produce more leads, and increase sales, all while maintaining your loyal client base. They are crucial for assisting you in identifying trends in digital marketing.