Business Digital Marketing
In the modern world, marketers are continually flooded with new concepts, venues for marketing their brands, and tools to use. Although these advancements are frequently exciting and advantageous, marketers may find it difficult to keep up with the changes. Businesses can no longer only rely on conventional marketing strategies, even though they are still effective. Although SEO and direct calling could have seen you through the early 2000s, you now need to promote to people rather than search engines. So, how do you go about doing that? Lead generation, also known as a comprehensive digital marketing strategy, is what you must put into practice. The appropriate plan ensures that you may obtain a return on your investment in addition to improving the effectiveness of your marketing.
The best part is that by setting up a procedure that integrates GrowthStack's 4 Vital Components (Clear Messaging, Marketing Automation, Sales Automation, and Campaigns), you actually save yourself from some of the difficulties that business owners encounter with conventional marketing.
Here are 10 marketing challenges that business owners must overcome, along with suggestions for how to do it using digital marketing.
The 10 Greatest Challenges for Entrepreneurs- Digital Marketing
1. Establishing a Consistent Brand
One of the most important aspects of marketing is branding. It's essential to have a recognizable, relevant brand since customers are surrounded by so many messages every day. Without consistent branding, your business becomes simply another faceless name in a sea of advertisements.
How do you build a powerful brand? by being mindful of the little things. Everything from font and colours to voice and style has an impact on how people view your company. You'll be successful if you maintain these elements across all platforms and in all communications.
A brand guidelines document will guarantee that any marketing firms, independent contractors, or new hires are aware of the precise typefaces, colours, and design approaches to utilize when creating designs for your brand.
2. Creating Leads and Traffic
According to HubSpot's State of Inbound 2017 research, the biggest problem for marketers is that getting traffic and leads continues to grow tougher rather than better as more platforms become accessible. Numerous company owners devote their whole time to social media, churning out hundreds of posts each week with no apparent benefit. It is annoying, particularly when it appears to work for other businesses.
You must first provide content that your audience genuinely desires if you want them to be interested in what you have to offer. Prior to doing that, you must be aware of your target market. Create buyer personas using data from market research, customer surveys, and any other sources of information you can find.
Once you have a better understanding of your audience, you can start to take activities that really speak to them, which increases traffic and leads. A campaign is where it all begins. Campaigns lay the groundwork for lead generation and conversion as one of the four crucial Business GrowthStack components. Usually, it contains the following components:
An attractive lead-generating offer that is targeted to a certain buyer profile, such as an infographic or digital marketing guide.

a landing page where potential consumers may download the offer and fill out a form.

A follow-up email to let them know they can get the offer whenever they need it.

A lead nurturing email campaign to maintain contact with the lead and foster trust until they are prepared to buy your good or service.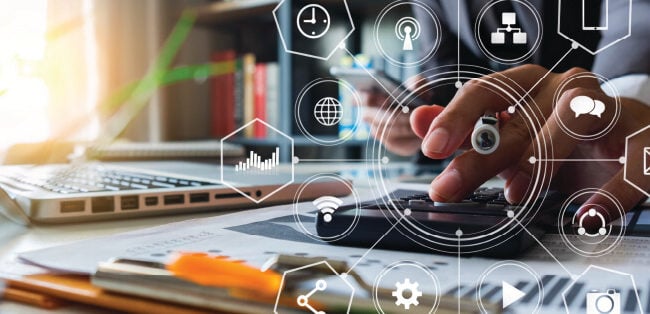 3. Meeting The needs of Your Website
When done correctly, your website attracts people, converts them, and enables you to generate income even when you're not there. It should come as no surprise that one of the largest challenges facing modern marketers is website management. Your website must draw in, nurture, and convert leads for you.
Otherwise, it's nothing more than a shiny golden toilet—a requirement that you spent money on but which is now useless.
Most business owners are aware of the value of their website, yet many still have trouble making it work. Making the best content and constructing a user-friendly, attractive website are two examples of website challenges. Many businesses, especially small ones, just lack the personnel or time necessary to devote to website administration.
This does not imply that you should accept a website that performs averagely. Find a company or expert to help you with the procedure. Ask users for their opinions on the website's shortcomings and suggestions for improvement.
4. Establishing a Successful Budget
Simply said, there isn't much room in the budget for many businesses. Additionally, marketing isn't frequently seen as a top priority for which resources should be allocated. But reducing your marketing spending is equivalent to turning off your open sign. Without it, your business will never expand.
You must demonstrate the effectiveness of your marketing efforts in order to defend spending money on it. Keep track of your return on investment and don't be scared to try new things when the old ones stop working. Ask for updates from your marketing agency around the end of the year to show that your money is being used wisely.
Additionally, if you're doing it yourself, focus on campaigns rather than spending all your money on flashy strategies (like SEO or promoted social media postings).
5. Comprehending Technology and Tools
Choosing the appropriate hardware, software, and technology for your company may be challenging, to say the least. There doesn't seem to be a correct response given the abundance of possibilities and the diversity of viewpoints around each.
We at Kreationsites only use HubSpot. The premier all-in-one sales and marketing platform, HubSpot, works well with GrowthStack's elements. You can use it for:
Depending on the forms that potential clients have completed, automatically send them emails
Keep track of every lead's website activity.

Throughout the entire year, manage your sales and discounts.

View a list of all the people who have downloaded your website's lead generation offers.

Create, publish, and distribute blogs

And a lot, much more
There are alternative solutions, and for some people, HubSpot's price is prohibitive. Whatever you choose, just make sure your staff consistently uses it and makes use of all of its benefits.
6. Developing Quality Content
As we discussed in our second point, having amazing content is the key to attracting visitors and leads. Asking yourself what difficulties your audience has that you can fix can help you come up with ideas for your content calendar for blogs, offers, emails, and social media postings. Always focus your content on a particular issue your audience is facing. This will increase its allure and benefits.
Next, think about the kind of content that today's customers like. For instance, blog entries as opposed to videos. Videos and social media postings are consumed more frequently than any other forms of content, according to HubSpot research. Consider incorporating video into your other pieces of content for even greater success.
7. Choosing the Best Marketing Professionals
Finding the proper people to join their team is a significant issue for many business owners and marketing managers. Without going over budget, you want outstanding talent. A full-time digital marketing staff, however, is frequently just not practical. you choose the less expensive choice.
Perhaps it's a young person who just graduated from college and has no experience in your sector. It may be your cousin's alleged Instagram influencer offspring. In either case, you have a marketer who excels in one area but doesn't see the whole picture.
Similar to web design, working with a marketing agency could be the best option for your company. These businesses hire the top experts in each field.
If you do want to hire internally, properly screen your prospects. Choose a person who has some background in both content development and design since they will be able to help your company be more successful than someone who specializes in just one field. To identify the finest candidates for your team, stick to the advice and best practices (such as those provided in this article).
8. Marketing ROI Calculation
The most effective technique to assess the success of any campaign you run is to calculate the ROI (return on investment) of your marketing campaigns. Additionally, it is a certain technique to receive a bigger marketing budget.
It's still one of the most difficult things to achieve. You must narrow the gap between marketing efforts and sales outcomes in order to calculate ROI effectively. To achieve it, you may use a variety of technologies, including CRM programs and marketing software. Software like HubSpot, MailChimp, and Infusionsoft are excellent resources for this.
However, you can still do this to a certain extent without any software. Find out how new clients first learned about your company when you talk with them. Did they notice a post on social media? Do they have an offer downloaded? Did a buddy tell them about you? Following that, maintain track of their answers to ascertain where the most traffic is coming from.
Think about including this question in a survey that you distribute to all of your clients. This will allow you to determine whether your marketing strategy was successful in bringing customers to your door or not.
9. Training Your Team
Your marketing team should receive the same level of training as any other employee you recruit. Even if they are professionals in their sector, you must give intensive training if you decide to recruit a full- or part-time marketing team.
10. Increasing Customer Engagement Through Facilitation
Too often, marketers are compelled to focus so much time and effort on generating new leads that they unknowingly neglect their current clientele. Since current clients may be able to generate more sales and recommendations, this is a serious error.
So how can you get customers to return for more? Spend particular resources on interacting with current clients. Implement a customer interaction strategy that can be simply automated while also rewarding devoted clients.
Your strategy can include an annual customer satisfaction survey, a welcome package (including branded mugs or t-shirts) for each new customer, exclusive discounts for devoted clients, or a rewards program.
The Moral: It's Possible to Succeed in Marketing
There is a lot to learn about marketing. If you try to navigate it alone, you may feel overwhelmed and confused as an entrepreneur. Fortunately, you can contact individuals and expand your business even in today's crowded industry. All you require are the appropriate tools and a little bit of expertise.
To find out more, speak with the Kreationsites and the team professionals. Our digital marketing team has a lot of expertise with StoryBrand and HubSpot. Our technologies take into account all four elements of the Business GrowthStack and have developed comprehensive marketing machines for more than 100 organizations.
To begin, set up a strategy meeting.