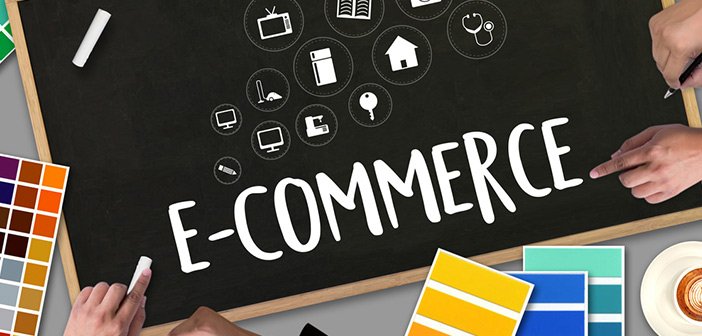 Creating an Ecommerce website is a specific investment option among most business owners, merchants, entrepreneurs, and most commercial businesses in order to convert the competitive advantages of online shopping into a consistent revenue source via a professional eCommerce online store.
Ecommerce websites, also known as "online stores," allow consumers to discover, compare, and purchase desired products or services online conveniently from home in a few minutes with a few clicks using their smartphones, tablets, and PCs, making the decision to invest time, effort, and money in the Ecommerce website development process a rational decision for increasing your business growth with more sales and higher revenues.
Aside from the ease of online buying, Ecommerce websites provide many additional competitive benefits, including but not limited to:
Increasing your company's reach by targeting various local and international markets

Attracting more prospective customers and improving sales volume with a professional online Ecommerce shop that is open 24 hours a day, seven days a week

lowering the operational and marketing costs associated with running and promoting a physical shop

Tracking and analyzing customer behavior, or "your Ecommerce website visitors' interests," in order to tailor your items and marketing efforts.

Increasing upselling and cross-selling opportunities through remarketing campaigns

When it comes to the benefits of Ecommerce website development, there are countless business chances produced on a daily basis once you have a competent online shop tailored to your company's needs and goals.
Ecommerce Website Types
Before we begin the process of designing and developing an Ecommerce website, we will first review the many types of Ecommerce websites in order to determine the best type for your needs and goals.
The following are the most common types of Ecommerce websites:
B2C Online Stores: The most frequent sort of Ecommerce business with an Ecommerce website dedicated to displaying and promoting things to final customers such as clothing and technology such as mobile phones and PCs or furniture.
B2B Ecommerce Platforms: Enterprises create online Ecommerce Platforms to sell their products and services to other businesses while expanding their reach and targeting foreign markets.
C2C Ecommerce Stores: Third-party stores such as eBay allow normal people and businesses to promote and sell their items to end users online.
Other sorts of online platforms, such as freelancing platforms, where people and professionals provide their skills to organisations do not often match the Ecommerce website criteria discussed in this article.
Starting an Ecommerce business is a feasible option for a variety of commercial, technological, and industrial projects because you will be able to promote and sell physical products as well as digital products such as online courses or eBooks, exclusive digital content such as stock images, or innovative products such as when we assisted our client "Boxture Egypt" with an online store to sell smart furniture products.
Steps for Developing an Ecommerce Website
The next stage is to begin the Ecommerce website building process once you have determined the appropriate type "model" of an Ecommerce website for your business, whether it is a specialised online store to sell your items or a marketplace for individuals and businesses to advertise their products.
The following are the main steps in the development of an ecommerce website:
#1. Selecting the most appropriate Ecommerce solutions
The first stage in the development of your Ecommerce website is to select the finest Ecommerce solutions to convert the website into a fully-functional online shop with all of the essential and desired features integrated quickly.
The following are the main Ecommerce solutions that must be carefully considered before beginning the Ecommerce website design process:
CMS Ecommerce platform (ex: WooCommerce – Magento – Drupal) appropriate for your Ecommerce business in terms of product type and needed integrated features.

Ecommerce website hosting package that is appropriate in terms of pricing, performance, and estimated traffic volume to your online business.

The best design "template" for your Ecommerce platform in terms of home page look and mobile compatibility.

Online payment solutions that are convenient for your potential consumers

Custom features and extensions, such as accounting extensions, are available to give you complete control over your Ecommerce platform.
All Ecommerce websites are expected to work flawlessly by website visitors "possible purchasers," which can be ensured by selecting the finest Ecommerce solutions fit for the online store's nature, demands, and desired goals.
#2. Designing a user-friendly Ecommerce website
Once you've determined which Ecommerce solutions are best for your Ecommerce online shop, the next part of your Ecommerce website development will be to create a professional user-friendly Ecommerce website design in order to take significant strides toward running a profitable Ecommerce business.
When you keep the user experience in mind to ease the website navigation experience, your Ecommerce website design will create a competitive advantage for your online store.
Creating a responsive mobile-friendly Ecommerce website design with scalable content, photos, components, and buttons for "mobile / tablet / desktop" customers on all platforms.

Creating a branded web design with clear branding components "ex: official logo / colours schema" for all of your e-commerce website pages

Remove unneeded things from your e-commerce website design to simplify it.

To facilitate access to product categories and subcategories, a drop-down categorised navigation menu is used.

Using high-quality photos and 360° panoramic photographs and movies to show your items in use (for example, clothing).

For each product description, use concise, succinct wording

limiting user distraction by preventing the presentation of popups
#3. Providing the greatest online buying experience
To prevent losing new and present consumers to competitors, Ecommerce firms must provide the greatest online buying experience possible.
The following steps may be taken to provide the finest online buying experience through your Ecommerce website:
Increasing the loading speed of online store pages to "no more than 4 seconds"

Product classification that works "major categories – subcategories – tags"

Using sophisticated search and product filtering features

Displaying all product data (stock status – shipping cost and duration – professional product images – customer reviews & testimonials – similar goods)

Make use of a "Thank You" page to validate completed transactions

Providing effective numerous customer service alternatives (for example, live chat / email) and easily available contact information

Developing a simple registration procedure and supporting guest checkouts

Several easy and secure online payment alternatives are included.

SSL certificate encryption protects visitors' personal information and financial transactions.

Supporting multiple languages and ensuring browser compatibility

Declaring a clear return and exchange policy for items in conjunction with a FAQ page

Icons for official social media profiles are displayed to provide extra contact choices.
#4. Ecommerce Platform Testing and Launch
The following stage of your Ecommerce website development journey is testing all components and features to assure the successful launch of an effective professional online shop, which includes:
The navigation encounter (compatibility with browsers – mobile navigation – support options)

The online purchase checkout procedure (ease of completion – integration of online payment options)

The level of security of databases and financial transactions

The tracking code and discount coupon functionality

The amount of integration of custom extensions and functionality introduced

Once you're pleased with your Ecommerce website, you can begin the launching process, which will make your online shop visible and accessible for potential consumers to browse and purchase available items.
#5: Increasing the Visibility of Your Online Ecommerce Store
With the exception of future upgrades to your Ecommerce website structure and features, the Ecommerce website creation process will conclude after the launch of your online shop, and another phase will begin, which is the online Ecommerce store marketing process.
Integrated digital marketing solutions are the most cost-effective option for advertising your online business and increasing sales and income.

Creating a customised Ecommerce SEO plan to get more free and profitable traffic from search engines of potential customers

Paid search engine advertisements to attract more interested consumers while staying inside your budget.

To improve visibility and visitors to your ecommerce website, run social media marketing campaigns on appropriate networks.

Email newsletters and promotional sequential campaigns to promote related and new items relevant to the interests of targeted users

Offering loyal customers sales discounts and coupons
To provide continuous revenues from your Ecommerce firm, you must first create a quality Ecommerce website and then start integrated personalised marketing efforts.
#6. Assessing the performance of your ecommerce business
Owning a continuing Ecommerce business requires frequent review of your Ecommerce website performance in order to determine the strengths and weaknesses of your online shop in order to provide a continual high return on investment.
Using tracking codes, reliable traffic data, and behaviour analysis, you will be able to easily analyse the success of your Ecommerce website using appropriate metrics such as:
Monthly traffic volume and source percentage (search engines – social media)

referral websites – sponsored advertisements – repeat visits)

Conversion rate (purchases completed / traffic volume)

Every product's sales volume

The sales volume of each product category

Order value on average

Return on Advertising Investment (ROAS)

Average session duration and time spent on each page

Rate of Bounce

Rate of shopping cart abandonment
The metrics listed above will assist in offering a clear image of your Ecommerce business performance and which areas require development to create a successful Ecommerce website.
Conclusion
The process of developing a successful professional Ecommerce website begins with defining your business needs and desired goals for your online store, followed by collaboration with an experienced Ecommerce solutions provider to develop, launch, and promote a flawless online store that generates endless business opportunities and the highest return on your investment.
Contact us today to begin developing your professional online store.